A little more than a week ago I had LASIK, and so far I couldn't be more pleased with it. If any of you are considering the surgery, you've likely read about the overwhelming success rate. But you might also be nervous about having someone cut your eyes. Get over it.
Do you really want to be messing with this shit forever? This is me on December 6th, taking out my contacts for what I hope will be the last time.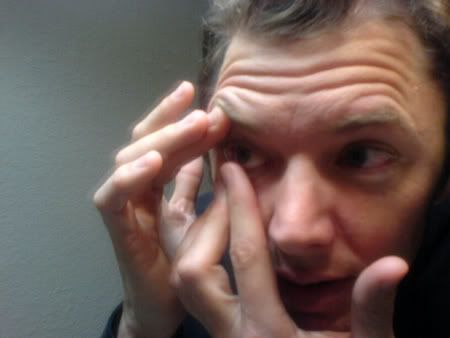 Because contacts can slightly reshape your cornea, I was required to wear glasses for two weeks before the procedure. That was far worse than the surgery.
Here's me wearing my glasses in the lobby as I sign the release. Be aware that one of the terms you must agree to is that LASIK could result in the complete loss of your vision. But I've had other surgical procedures where one of the side effects was death, so I took this in stride.
Before the procedure the doctor wants you to become very relaxed. I was given a pill called Ativan, which was sort of like taking a sugar pill (meaning it had no discernible effect on me). Anyway, I was already relaxed because I was excited about the surgery, and because technology makes me comfortable. Like Darth Vader could have been my doctor and it would have been cool. Nevertheless, I sat in this recliner and listened to an indoor waterfall and some instrumental spa music.
If you're wondering what the cutting feels like, it doesn't feel like anything. You are given plenty of anesthetic drops, and there was no pain for me. The room is pretty loud, and I can see where it might be intimidating (for a girl), but again I was so excited that I wasn't nervous at all. Here a nurse is dousing me with more drops.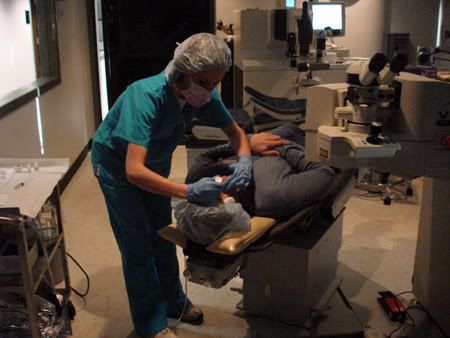 Being under the laser was the coolest part. You're asked to stare at a point of red light, which for me was a tiny bit blurry. The doctor dyes your eye so he will be able to line up the flap after the laser is done, and then the blade makes the cut. This is just before the flap was created.
Then a laser shoots directly onto your eye, reshaping the cornea to correct your vision problem. This part took about 15 seconds, and you can't see anything. I didn't even smell my cornea burning, which I was sort of looking forward to.
Afterwards the flap is folded back onto your eye, and immediately I could see the red light much more clearly. When I stood up, even though my vision was a bit blurry, it was already far better than before. I was at the doctor's office for a little less than two hours, but the entire time in the operating room was about six minutes.
This picture of my eye was taken immediately after the surgery. Notice how you can see where the flap was created.
The morning after I went in for a post op checkup, and my vision was already 20/20. Yesterday was my one-week follow-up, and my vision had improved a bit. Everything is healing normally, and I haven't experienced any halos or starbursts. In fact, I've only had a tiny bit of dryness, which isn't bad considering how dry this winter has been so far.
While no medical procedure is 100 percent safe, LASIK enjoys an extremely high success rate. Almost everyone seems pleased with the results. I certainly am.
I can't wait to find all those golf balls I've knocked into the woods.