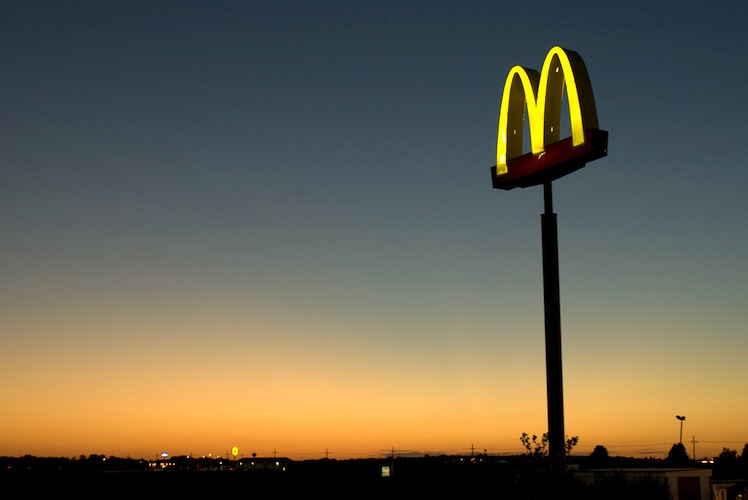 I wrote this nearly eight years ago, two days before I was laid off from a company where I was an employee for nearly seventeen years, and eight months before I began work on House of the Rising Sun. In a way, this post humorously suggests an idea that was explored in much more detail in the novel: It's easy to feel like you have nothing when really you have everything.
—
In a little while I have to go outside and haul six giant lawn bags from my back yard to the street. The bags are full of leaves and some pruned tree branches and they aren't all that heavy, but that doesn't make me dread it any less. It's fairly downhill from my back yard to the street. There is a strip of grass all the way to the curb, so I don't really have to carry them. I could just drag them down there. Tomorrow morning the bags will be magically whisked away to raked leaf heaven, and still I'd rather complain about having to move them forty feet to the curb than actually do it.
Earlier I went to the grocery store and they were out of local honey. All they had in stock was a slick national brand harvested in a faraway place, and for all I know it's not even honey but high fructose corn syrup with glue in it, the product of an evil, shadowy agribusiness scientist whose entire purpose on this planet is to genetically engineer foods that are addictive and make me fat when I eat too much of them. As you can tell I'm pissed off about the honey. About the store being stocked full of 3.8 million food items I might want to buy but being out of the kind of honey I definitely want to buy. The nerve.
On the way to the store the streets were packed with cars and trucks and SUVs. There were too many to count. Where the hell are all these people going? There are twenty four hours in a day. We don't all have to take the same two hours out of every day and jump on the road together, do we? The guy in front of me was driving a giant pickup truck, red and shinier than a brand new Porsche, and it should be clear to anyone who cares that he's never hauled so much as a screwdriver in the bed of that thing. There is a cover over the bed, for heaven's sake. How dare he have the opinion that a pickup truck is nice-looking and might be purchased for any reason other than pure utility?
And even when the roads are empty, like late at night or in the middle of nowhere, I'm always too far away from where I want to be. Last year I drove to Wichita Falls on a storm chasing expedition, and when the chase turned out to be a bust, I was five hours from home. Five hours! So on the way back, in the middle of nowhere Oklahoma, I got a bit of a lead foot. Maybe it was my choice to drive all the way to Texas but that doesn't mean I should have to spend five hours on an empty highway going home. Somewhere between the Red River and Lawton I reached 135 miles an hour before I decided I was being an idiot. What's the big rush to get home? So I can sit there and sulk about not seeing a tornado?
But I have every right to sulk. When I storm chase I connect my laptop into one of the power outlets in my car and hook it to a GPS receiver that is plugged into the other power outlet. Then I use a wireless card to connect my laptop to the Internet. Software on my computer overlays weather radar with a road map, it tells me how fast the storms are going and how fast I'm going and allows me to plot an intercept course. It tells me if storms are rotating and if they are producing hail. The software does everything but drive me to the damned storms, but then I cross the Red River and that's when I find out my phone carrier doesn't offer rural data service in northwest Texas. So I have to actually look for the storms, like out my window, and I have to place a phone call to someone and ask them to look at the radar. I mean I'm in the middle of nowhere and I have this little flatscreen computer phone that makes it possible for me to call anyone in the world, but that's not enough. There is no data service out here for the love of God.
My car is smart enough to talk to my iPod and pipes all my playlists into a fancy display on the dash, but the menus take too long to navigate. I guess it's my fault because I had the nerve to load 4,000 songs on there. 4,000 songs that I'm totally bored with. Hundreds of thousands of hours of blood and sweat tears by musicians I've never met and I can't find a single song on the damned iPod that I want to listen to.
And while I'm driving back I can't decide if I'm hot or cold. I tinker with the interior climate of the car by individual degrees. And the road is too bumpy. I look out on the prairie and I imagine people trying to cross the land on horses or in wagons, with no smooth asphalt, unimaginable discomfort caused by life-threatening conditions in the Old West, and I'm frustrated because the only restaurant on the turnpike is McDonald's.
This weekend I'll play golf and probably shoot a pretty good score, but I'll be upset whenever any shot doesn't go exactly where I want. I've only been playing for twenty-five years. Why haven't I figured this out yet? It's not rocket science.
And speaking of rocket science, why haven't we sent a man to Mars by now? This is 2010. We were supposed to find that big black alien rectangle by Jupiter nine years ago, but the reality is we haven't even traveled to the closest planet yet. We're supposed to be flying around in DeLoreans propelled by fusion engines that run on trash, not arguing over where to dig up more fossil fuels. And if you really want to piss me off, ask me why there is no such thing as a real lightsaber.
How come everything isn't exactly as I want it? Whose fault is this?
I'm outraged!
Aren't you?